Project: Homemade World's Best Sled!
November 17, 2008
[BUMP from 12/07] My brother created a neat homebrew sled. I just made a couple for our kids for Xmas.

At this point, I can't think of a better homemade sled. Feel free to post your own ideas, plans, links!

What you do is take a plastic tub sled ($10 hardware store) and screw a pair of XC skis to the bottom of it---if it's a sled for kids---or a pair of metal-edge downhill skis if adults might use it. Use stout, short screws and big washers to avoid pull-thru. Then you glue foam-padding to the inside of the tub.

This sled runs really straight. And superfast, smooth and far.

I wonder if it can be made to allow for turning. --Maybe by angling the skis inward at the front a bit one could lean out to turn away from the lean.

If you first screw on a wood spacer to the skis before mounting to the sled, you can ride through deeper snow without scrubbing speed on the bottom of the sled---far faster. It's great fun to float over the snow that way.

A SuperFast Tub Sled made with downhill skis ends up a somewhat heavy sled, but it floats better in the soft stuff. With XC skis a sled is lighter weight.

I found several manufactured sleds online that are described as being fastest. They cost over $100. They're mostly patterned after luges or crestas. Some are curved wood, others molded plastic. Are they any better than our homebrew sled? We need a head-to-head! If they are faster, and can even be controlled, I wonder if there's a way to make your own...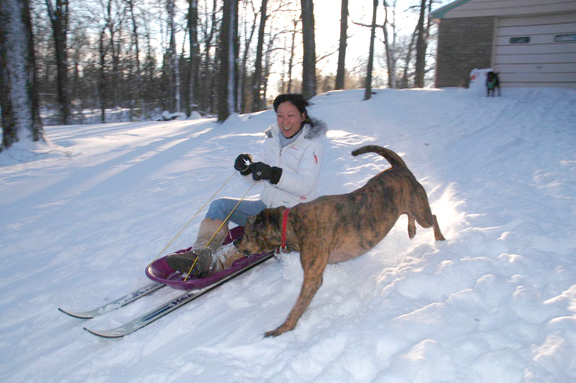 Homebrew sled in action!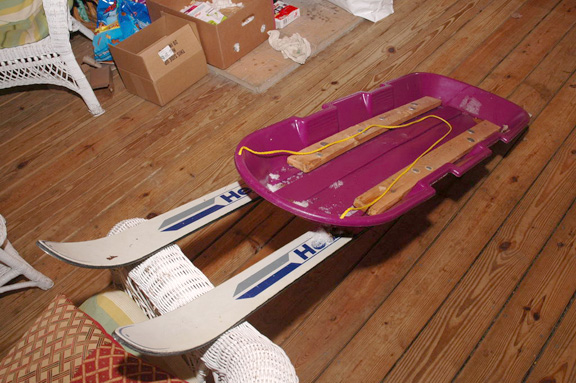 My brother's sled concept. Note--he says to not make it too rigid---tracks best with some 'give' in the frame.
Related Articles & Good Stuff
Views From a Wider Range of OYB