Seneca -- Buy a Scenic Ghost Town with a Liquor License
December 10, 2013
[UPDATE 2/18/14: Best offer stands at $240k. Wrapping up any day now. Last call!)

[UPDATE 7/11/14: Well, we have had a buyer for Seneca for a few months now, who has made a couple payments. We are presently sorting through final paperwork.)

I've posted about Seneca here before.

It's a ghost gold mining town that my uncle and his pal have owned since the 1970's but which they now need to sell.

Crazily enough, it's been in the national news bigtime this past week. ...Due to a Craigslist ad I posted.

Anyway, we're having an OPEN HOUSE up there this upcoming Sun and Mon, 11/24&25, 2013.

Why the fuss? Well, it's totally UNIQUE. Seneca is in the Sierras, in the middle of Lassen National Forest in Gold Country, NW of Tahoe, in the Sierras. It's on 10 acres, on both sides of the Feather River.

And it has a bar (with a liquor license) in an old shack that's still there. There are 3 old cabins that could be put into repair for rustic use. Lots of old Chinese-era mining is still visible through artifacts and changes to the land (they dug trench mines into the hillsides).

It has to be the ONLY such place of its kind.

Realtors didn't have any interest in listing it, but due to his health he really needs to sell. So I posted a CL ad. The ad sat awhile. Then went viral.

Last week it had to be the most popular real estate news story in the nation. I was contacted by nearly all the major media -- ABC, NBC, USA Today, LA Times, SF Gate, HuffPost, FOX, NPR, UK DAILY MAIL, CBC. We got hundreds of queries. Reality TV shows wanted a piece of the action.

Here is the link to the Craigslist ad: goldcountry.craigslist.org/reo/4311274924.html. (NOTE: Ad is temporarily on hold. Revised ad will be posted shortly and link updated.)

(The first two ads expired, but I keep renewing it. The old ad is still up in archives, but can't be responded to.) Keep an eye on CL and the ad since I might revise with news.

On 11/23 the most in-depth report yet come out as a front-page story in the Sacramento Bee: www.sacbee.com/2013/11/23/5938950/plumas-ghost-town-gains-worldwide.html

It's a ghost town but actually it's still the social center of the area when the bar is open. Folks still do small-scale gold mining around there. Locals stop by. Miners stop by. Tourists do, too.

It's a very wild and remote place yet it's still somewhat accessible to paved roads.

I'd say it's located on one of the scariest, highest, narrowest roads in the country. The southern access is only a few miles from pavement, a highway which is pretty directly connected to civilization like Sacramento. The northern access is more like 8 miles of very sketchy narrow dirt road -- that's the scary part. Still, it's fun and I'd recommend it.

Google for "ghost town craigslist" and see what I mean about national fuss. Google for a map for "Seneca, CA" to get directions right to the place.

So, if you want to buy an old ghost town, it could be yours for, say, $250k. Who knows, though, we might have an auction.

Feel free to email me at jeff@outyourbackdoor.com.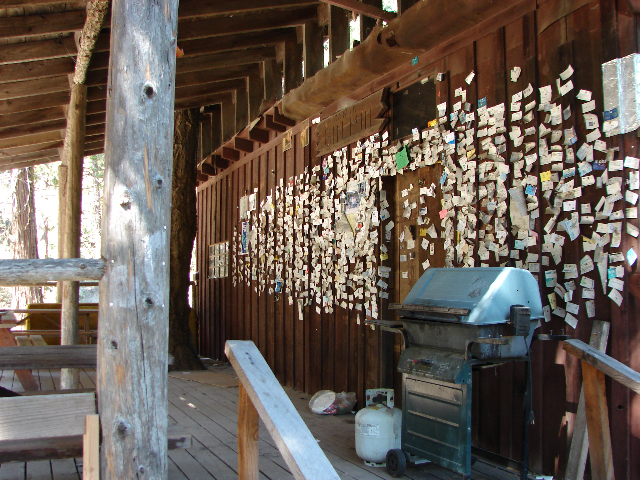 Porch of bar.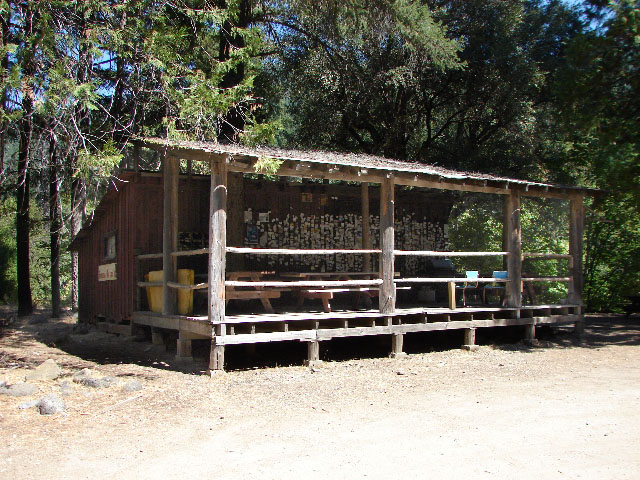 Front of bar.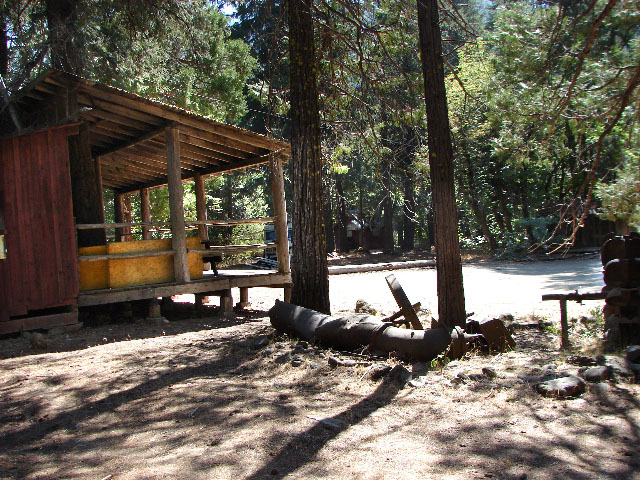 Side view of bar.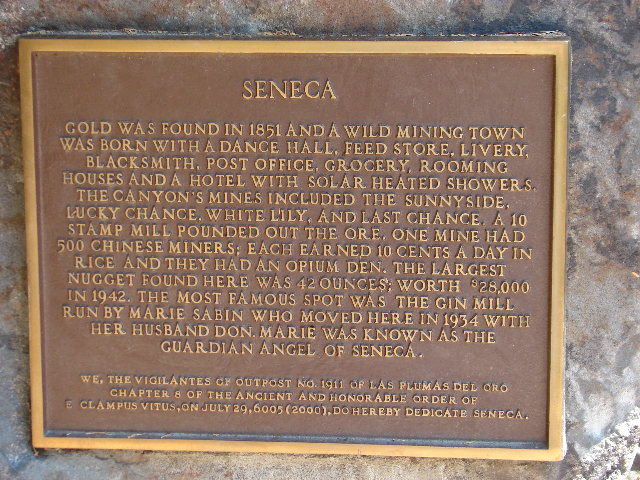 Bronze plaque near the bar on a boulder.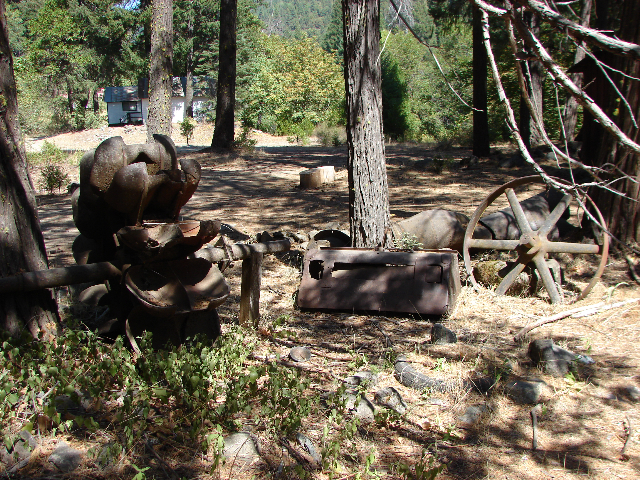 Old mining equipment laying around.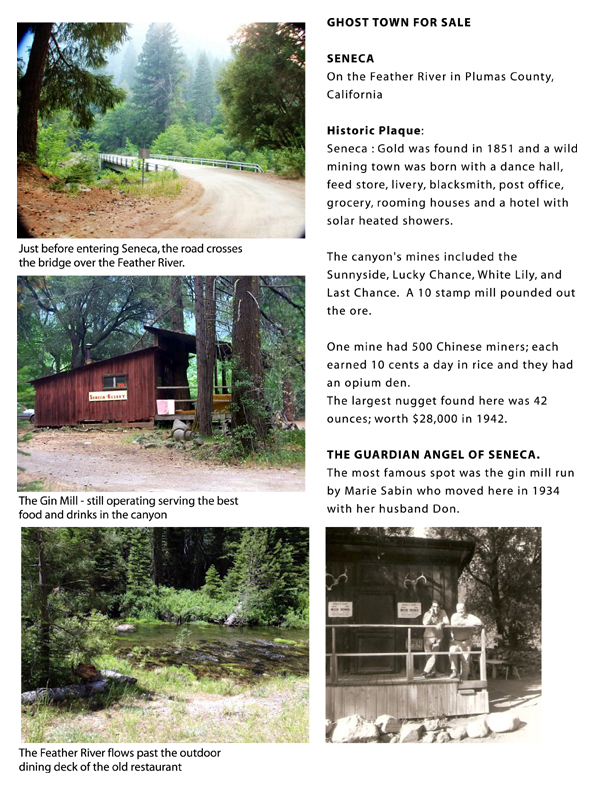 Here's an info flier that was prepared awhile ago.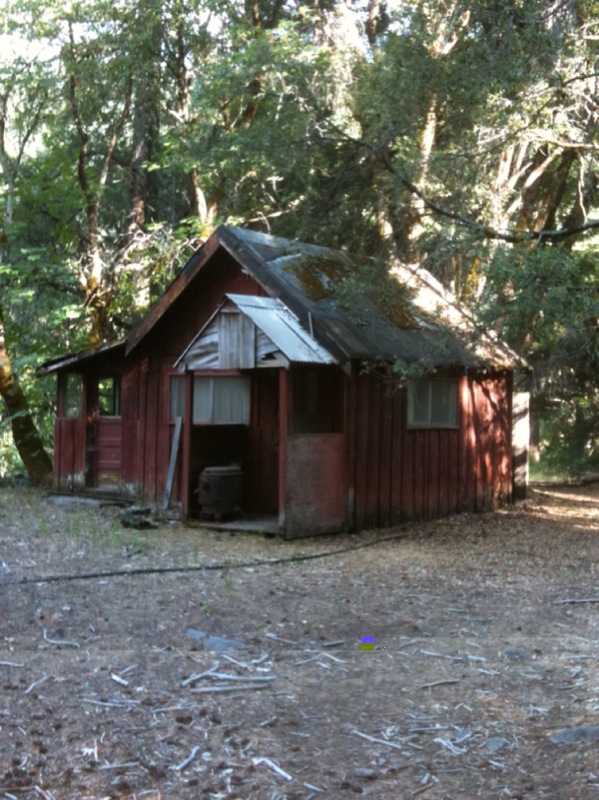 The smallest and most run-down of the cabins.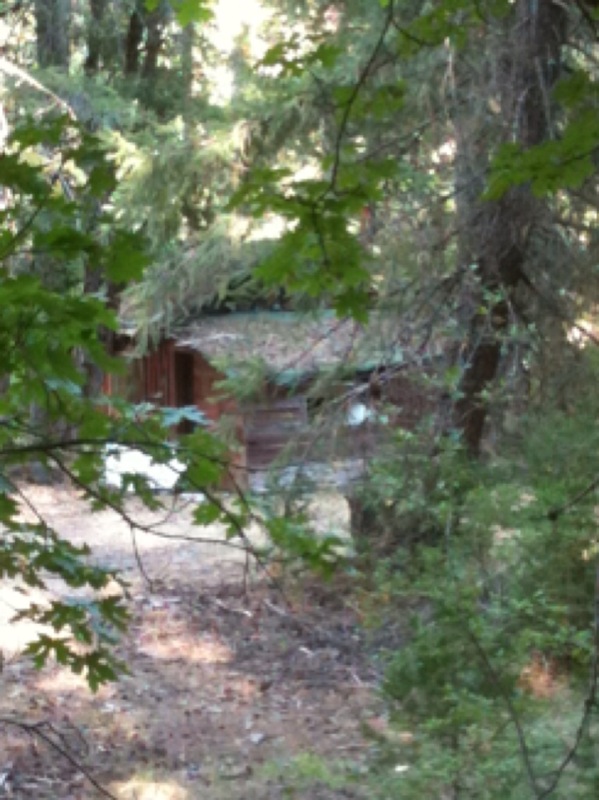 Blurry pic looking down on one of the bigger cabins.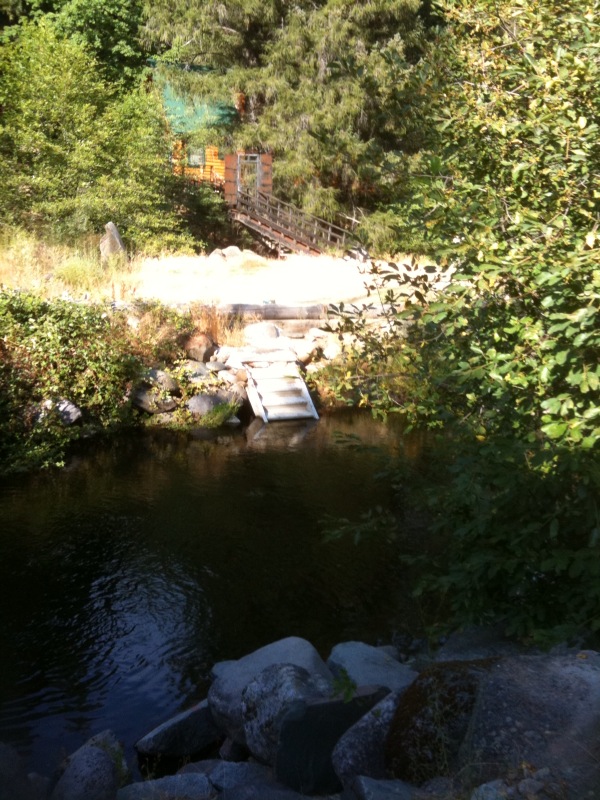 I think this pic is taken from the island and overlooks a dammed-up swimming hole. The cabin, island and swimming hole go with the property, as I recall.
Related Articles & Good Stuff
Views From a Wider Range of OYB