Messy vs. Tidy Bike Tourers
July 15, 2012
Messy bike tourers give touring a bad name. A bad looking name, that is. A bad fashion name, perhaps?

It's like if every convertible you ever saw parked was full of trash and junk. You might start thinking that this cool type of vehicle was actually kinda dorky.

Bike touring is probably a bit foreign or exotic to most people. But when bike tourers come through your town and park and you see their rigs, well, "exotic" isn't what comes to mind. Cluttered and dorky, more like.

Bike tourers almost always adopt the "kitchen sink" approach and appearance. Junk to strapped and piled everywhere on their bikes.

I'm not sure I've ever seen a bike tourer whose rig looked tidy. Or even whose personage looked uncluttered. Bike apparel and bodily accessories look geeky, too, almost always. What's amazing is that it doesn't have to be this way.

Sure, bright colors are definitely safer in this age of distracted drivers. But there has to be a better way.

I find it hard to believe that the folks with the mountains of stuff heaped onto their bikes actually use all that stuff.

Sure, there's room for kitchen-sink touring, but it shouldn't dominate the scene and it has a side effect.

It's like if all motorcyclists looked like yard-sales with junk strapped everywhere on their Harleys. They'd have a wacko image rather than a sleek, trim, black leather image. Not that that's such a great image. (But chaps can look kinda neat...)

A full weeklong bike touring rig really should have 4 pans and a handlebar bag and that's it. Nothing else lashed or piled anywhere. OK, something can be lashed on an exterior to dry -- and when it's dry it gets tucked away.

A touring bike rig CAN EASILY LOOK GREAT!

Ideally, all 5 bags are the same color and even go with the bike's color. This is not too much to ask.

But the main thing is to avoid the mountains of clutter style that they ALL adopt at present!

Bikes handle badly with mountains of clutter strapped to them.

And a heavy bike hurts your body! You'll get a strain horsing the thing around. You'll kill your knees. Uphills turn into dreadful winchfests. You'll only toodle. You'll wallow and founder on any soft surface. Stuff breaks, falls off. Most bike frames don't like it either: they turn into flexy noodles with stuff cantilevered mountainously on them. If they can handle such loads then they're too stout/heavy to begin with: carrying too much stuff requires too much bike.

What's more: with mountains of clutter atop your racks there's no place to lash your evening dinner and next morning breakfast grocery bag! That wonderful item properly gets purchased late in the afternoon and then gets lashed to the top of your rear rack, ready to sustain you upon arrival at your campsite. It's supported wonderfully there by the width of the panniers adding to the rack. The rest of the day those spaces, front and rear, should be bare.

Perhaps the worst thing about the standard cluttered mountain tour bike is the Ugly American aspect. The gear consumption on parade. The "we need lots of stuff" bloatage. It's obesity in bikes. It's not even stylish consumption.

Then there's the culture of touring of any kind. Should tourists stand out or blend in? I think they should never interrupt or disturb any local's worldview. The only reason they should stand out is for safety's sake: a few bright colors and lights should be used while riding (and only then) so that vehicles don't kill the tourist. When off the bike a tourist should ideally blend in perfectly. Otherwise, a visitor shouldn't look like they have any more stuff or money than locals do, nor should their values clash in terms of sustainability or reasonable morals. A visitor can conceivably take a stand for something worthwhile but not, say, for loud music in a quiet area nor for skin in an area that values privacy nor for consumerism anywhere.

On a related note, on my first bike tour to Europe in 1983, I biked around with a lot of simply equipped people from various countries. I saw carefree tourers with wicker baskets and skirts and sun bonnets. A guy with a guitar on his bike. We were an ever-changing social community in bliss. All ages. All kinds of bikes. All had a casual, simple, tidy air -- even the guy with the guitar. Then in a city center I saw my first American group: a half dozen folks with garishly festooned rigs. They were talking loudly. It was also the first time I saw bike helmets: those huge white Bells. It was in the 90s hot. Those people clomped around with what looked like pressure cookers on their heads. They looked like Martians and acted like them, too. It was like seeing astronauts. They didn't fit in and they were obnoxious. Like people talking loud to the deaf. Or to people speaking another language. They were all wrong. And their mountainous circus-color biked rigs with flapping clothes lashed everywhere on them were a big part of the problem.

Now, of course, fun can be had via the kitchen-sink approach. I don't mean to erase them from the scene. It's just that it seems to be 90% of the scene these days. I'd think that those who like to overdo it might more naturally occupy 10-15% of a scene without giving it a goofy rep. Moderation, brevity, simplicity should be more the norm. Like, cars aren't the answer to the world's problems but their culture is successful in terms of self-perpetuation and cancer-like growth in part because they are generally kept tidy. If nearly every car in a parking lot looked like a yard-sale then I think cars would be less popular. It's also like how blogging is popular in part because most blog articles are short and snappy. By contrast, my posts are too long. If many bloggers posted like I did we'd be in trouble. : ) But often my topics are somewhat complex and not often covered in a generalist setting like OYB so I can get away with it a bit.

OK, 4 pans is enough storage space for clothes, bag, tent, pad, poles, goodies. The bar-bag holds all you need while on the move -- and, yes, the bar-bag should be easily openable while pedaling. Snacks, electronics, maps all go there.

Three seasons and cold weather is easily accommodated.

Really, 30 lbs of stuff is all you need, at most. I'm including luxuries but only those you'll actually use and enjoy significantly. 20 pounds is completely doable and enjoyable for 3 seasons (chilly nights, rain, etc.). Even 15 pounds doesn't require any special ultralight or minimalist gear or omission of cherished goods. 12 pounds is when you typically start having to spend money to go light as well as do without stuff you just might appreciate having if you're taking your time and smelling the roses. If you actually just want to ride then rest and use your eyes/ears/nose for entertainment you won't lack even then.

In the wilds, feel free, of course, to add as much poundage in food and water as you need to get between sources. No need for overkill there, though.

Racklessness is totally viable today as well, but goodies can be somewhat less accessible -- if that matters, which it typically doesn't. Bags can be readily lashed to your bars and stem and seatpost and other parts of your frame (in the inner triangle and atop the top tube and behind the seattube) to save a lot of money and weight and improve bike handling and reliability. Nothing to break or rattle loose. But it often encourages the use of a back-sweating backpack, which we also mostly want to avoid, unless you really don't mind.

I admit to one main weak link in my theory: tent poles. You need to be tricky to find poles that take-down short enough to fit into a pan, but this mission is doable and should be done. Nobody should see your tent poles. ...Or your sleepingbag, tent or pad.

In short and in sum, you do NOT want to have 4 pans PLUS stuff-sacks, tents, poles, jackets lashed to the tops of the front and rear racks. That's the big disaster of today's cluttered touring.

Too bad that FullyLoadedBikeTouring.com seems to be dead'n'down. They had tons of amazing photos of bike rigs.

Thankfully, Adventure Cycling has been taking photos of tourers that visit their office since 1982. Here is a link to some of their portraits: http://www.adventurecycling.org/gspg. You'll see the contrast between the cluttered and the tidy and everything in between.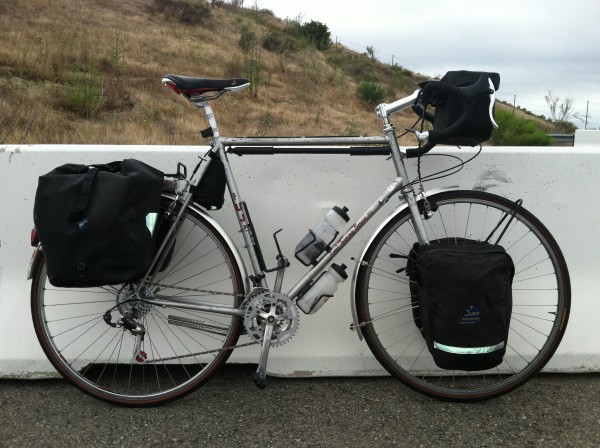 A perfect tour rig. Should be what 90% of bike touring looks like. (Except in the evenings when a bag of groceries can happily ride atop the rear rack.)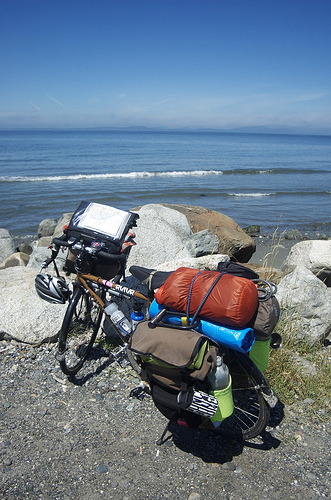 A very typical touring load. What does it really say about bike touring?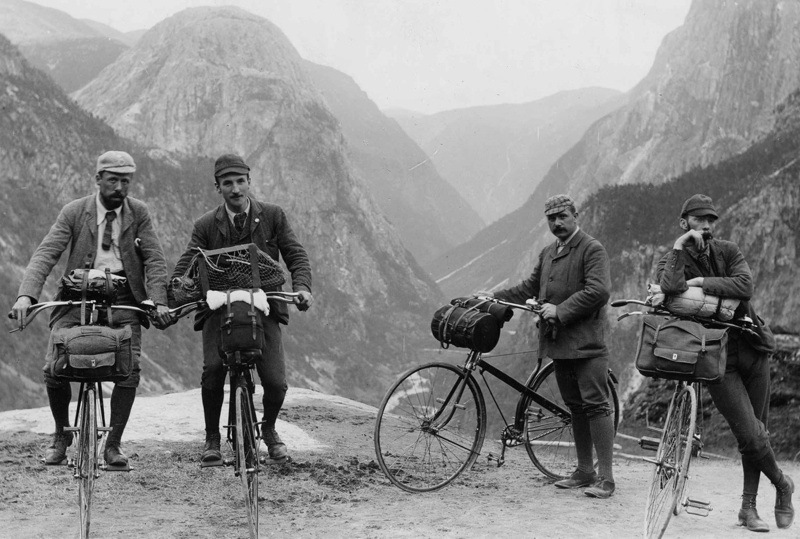 Role models. One of my favorite photos. These are classy, unobtrusive riders.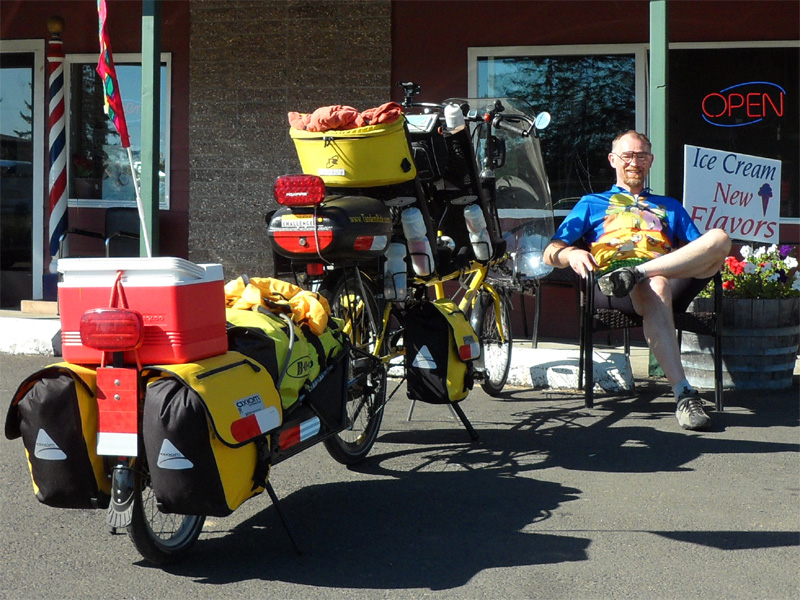 The maximum. Hopefully he's actually some kind of touring shop and not just on a bike tour. Not all that cluttered, actually, just a LOT of stuff.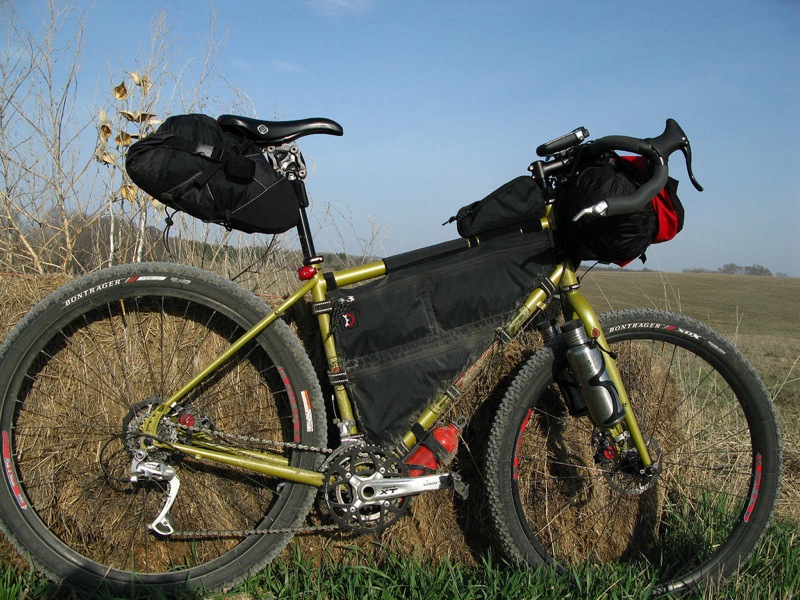 Racklessness.
Related Articles & Good Stuff
Views From a Wider Range of OYB