Jordan Jam 2012: 60 Degrees of Sparkly, Watery Heaven
March 12, 2012
Here's the Nordic Chronicler with a Big Day Report...

This year the Jordan Jam was a tale of water, sparkly sunshine and...amazingly...plenty of snow. Even more amazing, the snow was good for skiing. Because, of all the crazy things for skiing, it was a 60-degree bluebird day.

It was a good day for being in The Zone. We were out there for 7 hours as we skied about 18 miles of the huge, remote, picturesque watershed hills and dales.

I'd guess that quite a few would've said it was a crazy idea, that maybe it couldn't be done. They coulda been right. We wouldn't know until we tried.

The snow was kinda deep and mostly soft, but miraculously it always gave us decent glide. It had turned to corn and its coarse round juicy crystals sparkled in the sun for us as we sluiced along.

5 of us stuck through to the end of the Michigan Backcountry Series season finale. The other two events were the Potto Raid and the Stinchfield Loppet, but maybe the Yankee Spring Jamboree 5-hour romp in the best of the state at the time should be included. In this year of low snow we had less than half the total participation of last year but all three events actually delivered from decent to dandy conditions.

A week ago up north got hammered by a couple feet of snow. There was a complete dividing line at Clare marking the no-snow downstate region from tons-o-snow up north. It was amazing to drive through the featureless divide. There seems to be no reason for this boundary, but there it is. Clare is always it.

I was worried that the Jam on Sunday might be in big trouble because the 60 degrees was forecast awhile ago. In contrast Friday saw cold and more snow while Saturday morning started off at 25 degrees and gave a good morning of snow fun. Sunday was to be a full-blown implosion.

Then there was the Vasa -- it has a thousand fallen trees. Folks wondered if the Jordan River Pathway might reveal its remote self to be just as stopped-up.

Well, we thought: Let's just see. Talk is talk. ...Let's just see. Take it one ski stride at a time.

The posse was Dick, RadNord, Rosso, Scotty and me. The pushing started right off the starting blocks. We headed north Saturday evening -- not much of a weekend left but just enough, barely. We stayed at Dick's where we enjoyed a jovial but not carried away period of relaxation -- just enough. Then we slept, barely. We had a decent breakfast, but not too much. We arrived at the trailhead late, but hopefully not too late.

It was a trip of both pushing hard and pausing for critical judgments. We made 3 such decisions, all turning out to be right, maybe even critically so.

We were all using the new-style midlength 60mm-wide track'n'trail nowax skis, by the way, some with BC bindings. RadNord and I were trying Camelbaks for the first time. And each of us were stocked up with 4 slices of good pizza plus various snack items. Pizza is the key to hours of working in winter with both arms and legs and brain. We had maybe 4 liters fluids each to go with the 'za. Packs weighed about 12 pounds.

We started at Deadman's Hill, as usual. After our first half hour we hadn't yet accepted skiing 6" down into the surface when it was still 40 but soon to be 60. We wondered if we should pull the plug and drive down to Hanson Hills to catch the groomed skiing. We stood there in paradise and wondered a bit. Rosso declared that it was perfect where we were and it was far better being right there, moseying along in whatever way was required, than it would be to be driving around testing the water here'n'there while it got hot. It was no time for second-guessing. He was right. We were having fun and it was gorgeous so let's keep seeing what happened.

In many places the snow stayed fairly firm. We glided right along. The downhills were brisk but it was easy to detour into deeper snow to scrub speed without it being too grabby. Some of us biffed and wallowed a couple times anyway.

It's worth noting that these downhills aren't made for skiing. They get steeper and twistier as you drop down. A couple wrap around the outside of big sideslopes. The views are amazing, but a tipover to the outside would mean a tree-filled tumble.

This kind of skiing isn't for everyone. We call it Trail Skiing. Or Adventure Skiing. It's BC, of course. (Are you likely to complain about the grooming at your favorite resort? Do you stress out if you have to change your pace or do some hiking? If so maybe you'll stress out, but then again maybe it'll win you over after you stop fightin' it.)

At the very bottom, down where the otters play, you prompty turn and head back up. That upward pitch is a tangle that will impress you. Vietnam Veterans Pitch is what "they" call it. You're in it now. It's a herringbone like you haven't seen before, with roots coming at you left and right. It zigs and zags upward. It's ridiculous but it's actually satisfying. It can be done methodically and relaxed even though you're also stretched to breaking. It's a kind of nice line to walk.

I noted that the others had touring poles with big baskets and they worked great. My semi-small old race baskets sank in a lot more, sometimes being basically useless. I think I'll get a set of tour baskets to swap on for such outings in the future.

Eventually we dropped down into the land of many waters and they all were flowing. Lovely to be near.

I pulled over to take photos from time to time. But it was serious work out there. Not all that much chattering. Dick (age 62) even went off the front and out of sight at one point. I'd take a pic, get dropped, then have to ski pretty hard awhile to get back in. It was no time for fooling around. I do find photography to be quite the schedule-wrecker, plus my brain can't include it when really pushing hard, but no one else had a camera this time and I thought I'd at least try to make a small effort. I kept missing good views of the gang stringing along up a steep valley, but there were no second chances. Stopping for pics also messes up my own rhythm. (Man, documentary filmmakers, especially for mountaineering, have to be nuts, but they're rarely included in the story or hardly credited. Those climber dudes, especially a few years ago, had to do what the hero was doing plus carry an extra 100 lbs and go off to the side of the scene all the time.)

At the halfway point most of us stripped to t-shirts. We looked at the semi-bare, sloppy hills and then at the firm, watery two-track snowmobile trail and opted for that. This event was about skiing a good big day, not about being silly or spending extra hours floundering just to log a couple more miles. The road proved to be great and fast, often with fast-flowing streams on both sides.

Scotty had had a near tweak doing a tele turn on one of the big sideslope bends. And Rosso had bent a pole quite a bit in a biff. No complaints, but no reason to be foolish.

We stopped for lunch at Penney Bridge (pronounced "peeny" for some reason) and marveled at the lovely Jordan River. It really wanted me to go for a dip. I kinda think it woulda been darn nice. So clear, so fresh... Instead I just wrung out my socks and took off my t-shirt. We all lathered up again with sunscreen. Then we took off again on the road winding up the river. There's at least one big long hill along that road, where it leaves the river awhile then immediately drops back down to it, wasting the needlessly acquired elevation but giving us more challenge and fun.

We passed the huge Federal Fish Hatchery. It's a WalMart sized complex of 2-story polebarns, full of waterways and hatchling, I suppose. River water goes in one end and out the other.

We turned a corner and the snow disappeared.

Hmmm. Go back up the hill to the snow and find our old trail back to Deadman's, or dismount and hike and see what we find? We made our third decision. We headed out into the unknown. A half mile later we turned again and the snow was back. Good decision.

We take turns leading and breaking trail. The second and third skiers tramp the remaining humps to levelness, so the last two can chat more freely if they like on their custom-groomed trail. It's amazing how good the glide stays for everyone. Only for literally a couple minutes do we experience the sucky mank that can plague a grooomed trail.

We enter a savannah-like section of a few miles where the sun really starts sparkling in our watery tracks. We're really in The Zone now. For an hour. Then we re-enter the woods. The snow is sketchier. We cross creeks, swamps and log bridges. Ice gives way under foot a couple times. Puddles are deeper than we think. I poled a couple times down on a sandy creek bottom. I'd never heard my poles planting in a creek before. Shlurp! Shloosh! Our boots are heavy with water, but no one is reporting pain and the skis keep gliding good. We're not trudging. We're skiing. Wheee! Sure, there's a sense of the absurd, but it's more like we're the smart ones. We've grabbed the last of the good action because it just keeps staying good. Who cares about wet feet. It's that fresh spring flowing water air...

The beech leaves look pretty and coppery underfoot. It's kinda nice to tromp little sections of sunny, bare leaf litter. We're on our way to Deadman's Climb and nothing can stop us now. We chop footholds into an icy sideslope, trying to keep our skis on 2"-wide platforms of snow.

Give us 2" of snow, and we're good to go. ...2" wide, I mean.

Then we hit Deadman's. It stretches up and out of sight. It's over a half mile long, getting steeper as it twists up and away.

Sensei Dick takes the lead and pushes the pace. The trail is astoundingly wide, flat and firm. Giving perfect grip. Like a perfectly groomed ski trail. We march straight up the slope, taking huge strides while keeping low to the trail. Last year we had to side-scamper skidaddle the whole way. After 10 minutes the slope slightly lessens to just really steep and Dick kicks it up a notch, getting some glide. I keep responding to his surges. At one bend I feel a crazy hot wind across the slope. It gets steeper again. We keep charging. Then, one by one, we're all at the top. It's a maximum effort and a massively perfect finale to the day. We rested at the overlook then raced down the beeler trail back to the truck for a beer.

A little later we stop at a Wendy's and stand in line behind one other customer for 20 minutes. It makes us laugh. For the past 24 hours we'd been pushing the envelope of performance through challenge after challenge. And there we were, adrift at a counter.

Back in the truck I got all worked up to Elton's "Saturday Night's All Right for Fightin'" -- tired but on a high after such a Big Day.

***

Here are some pics and videos: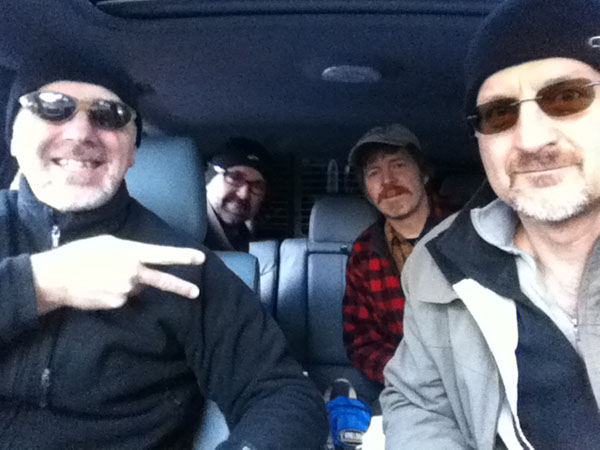 Rise'n'shine!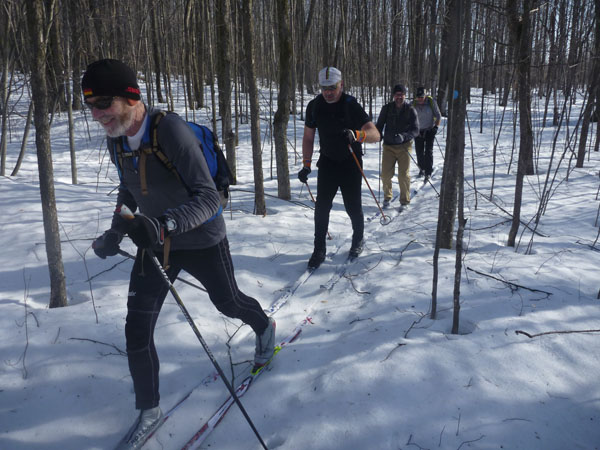 Open up the throttle, test the trail. What's the verdict?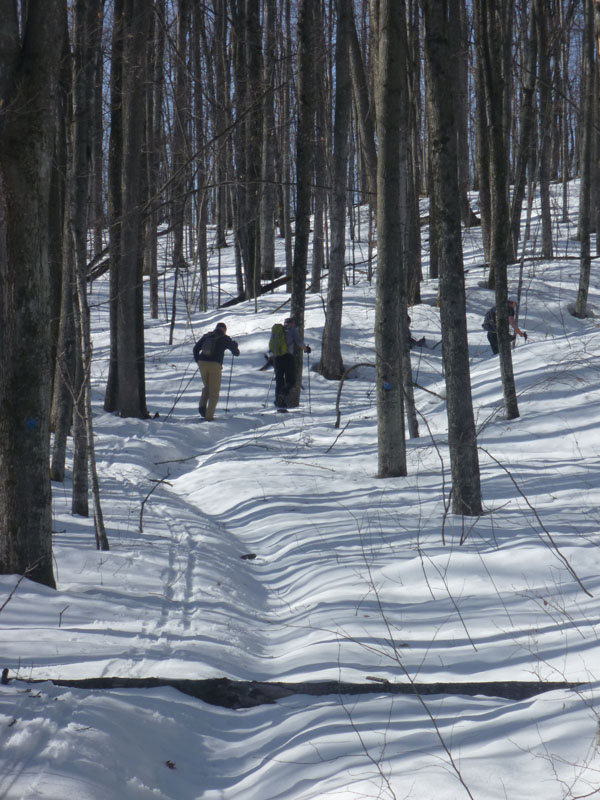 Tall timbers...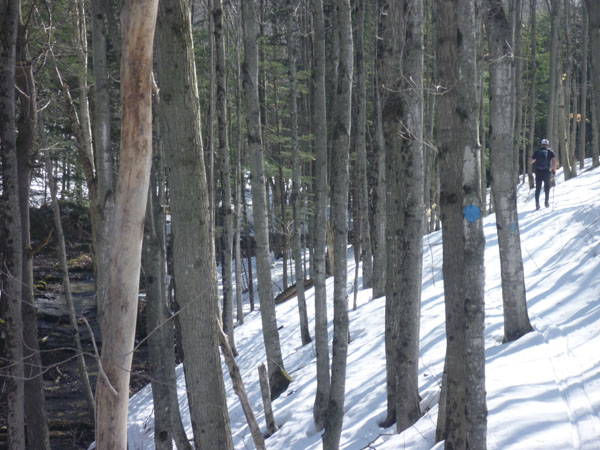 Skiing up past a creek in a complex watershed.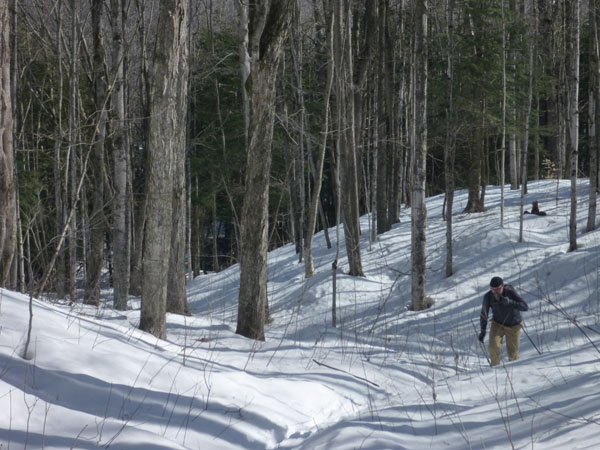 Climbing a valley.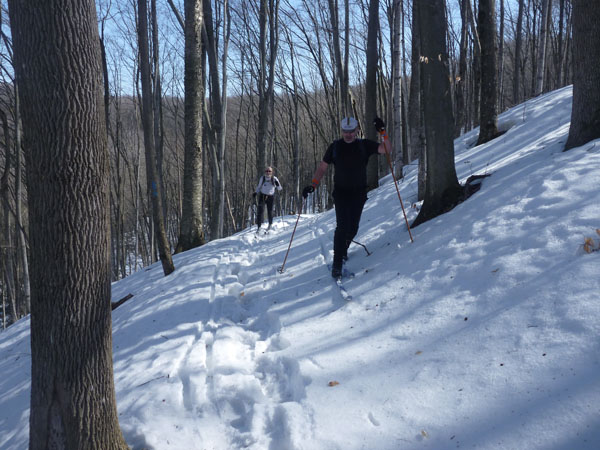 Sideslopin' on Rollaway.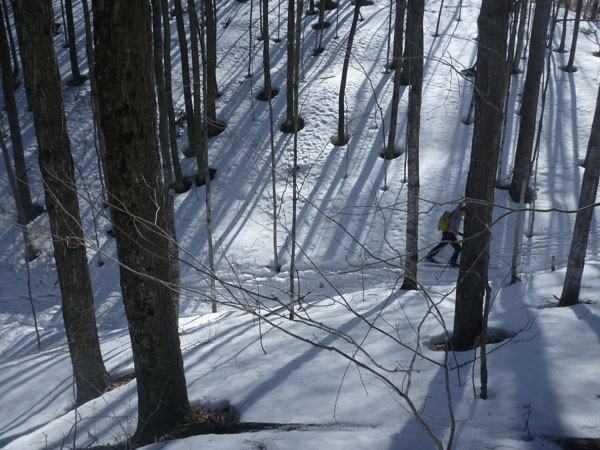 Valley.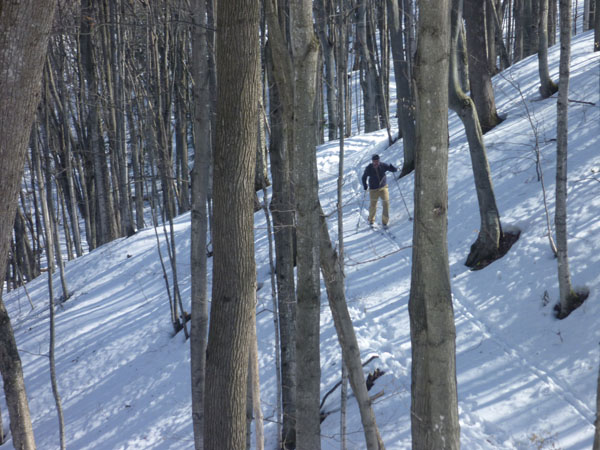 A sideslope descent with nice glide.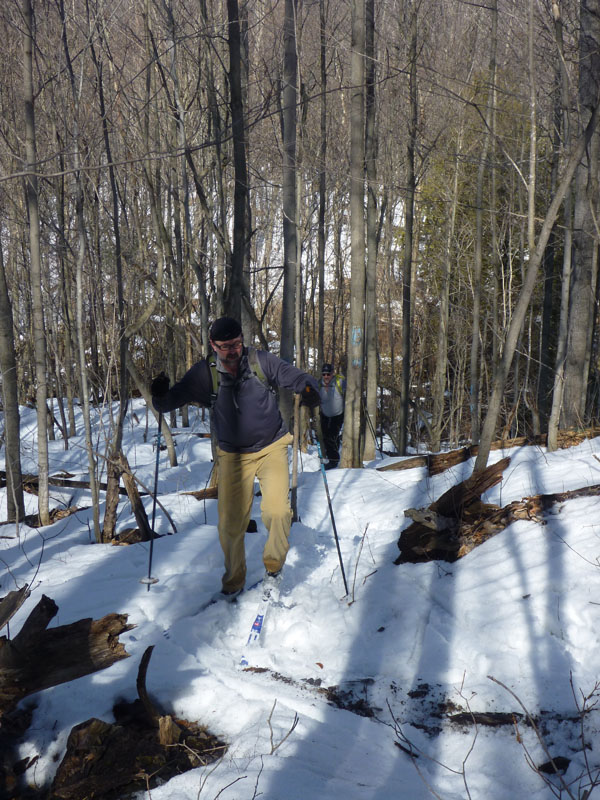 Most of the way up Vietnam Veteran's.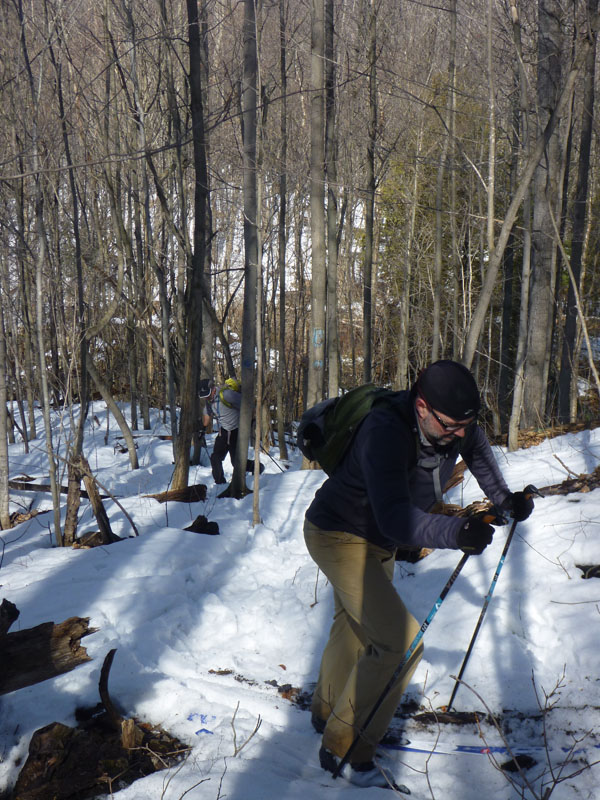 Tricky, tasty climb.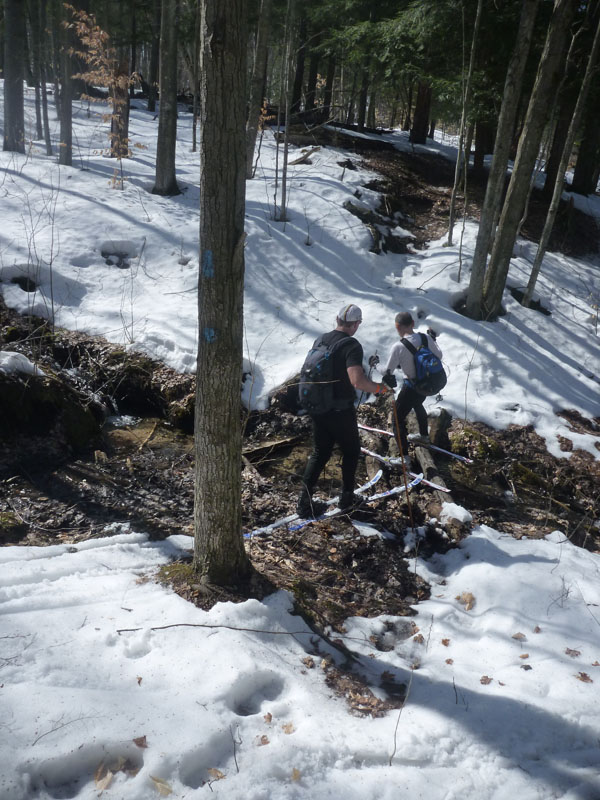 How we do it.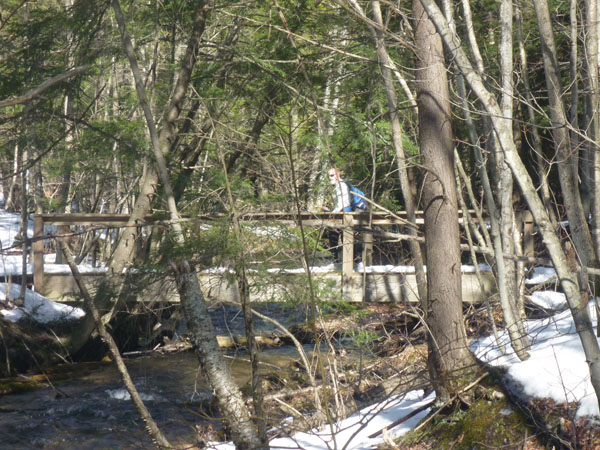 One bridge.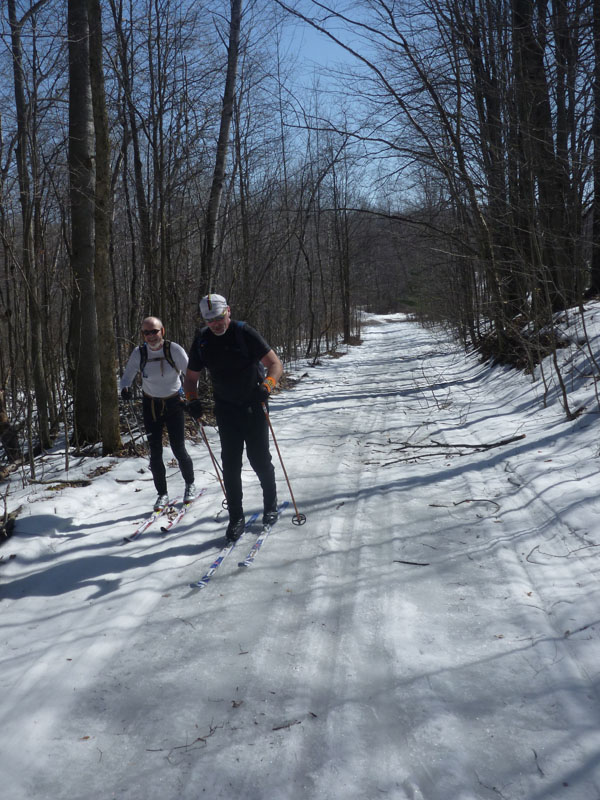 The better choice.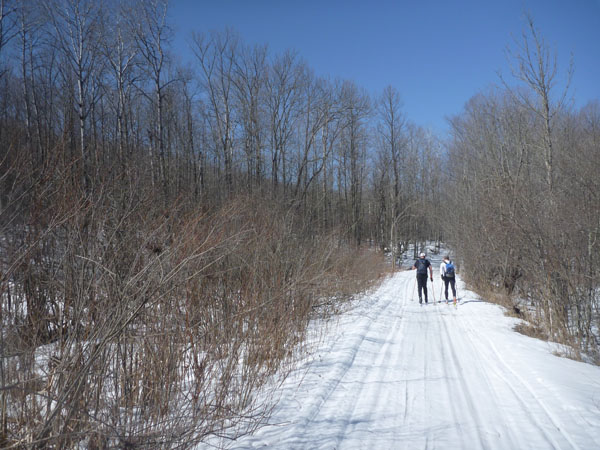 Bluebird.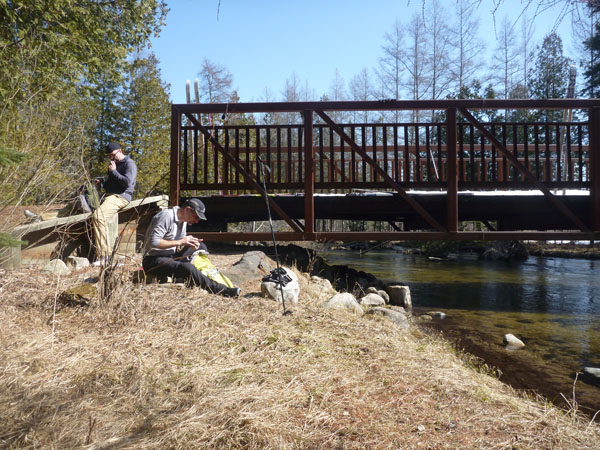 Lunch stop after crossing the river Jordan.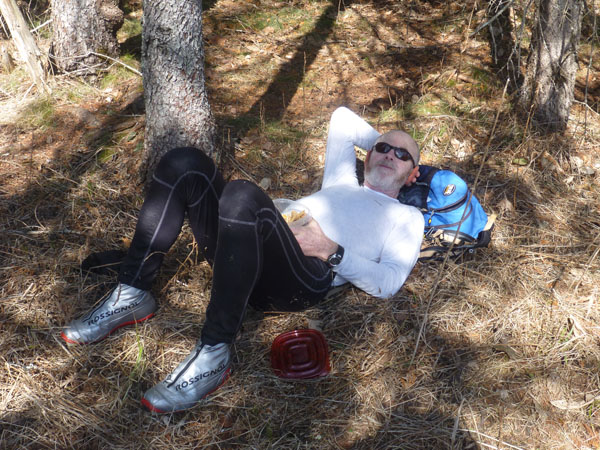 Sensei Dick demonstrating Lunch Pose.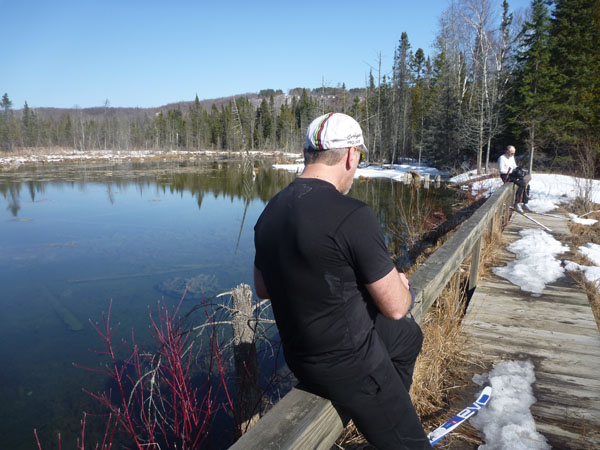 Rest, beaver pond, Red Ozier Dogwoods, Deadman's in the distance.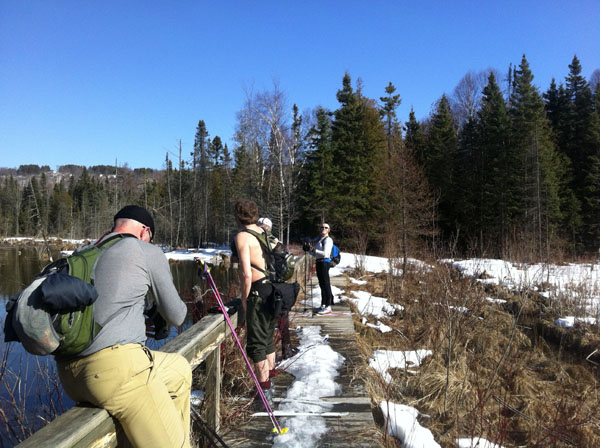 That's a lotta skin.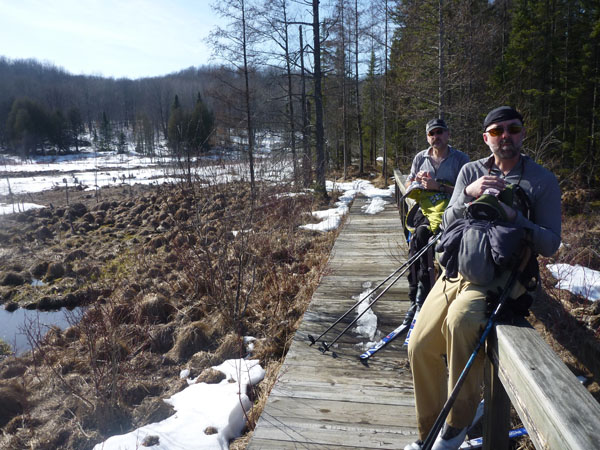 Scotty, R. Ross, L.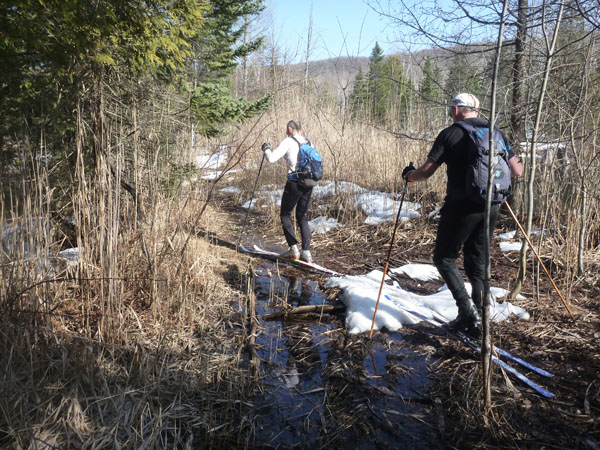 Gettin' a lil juicy.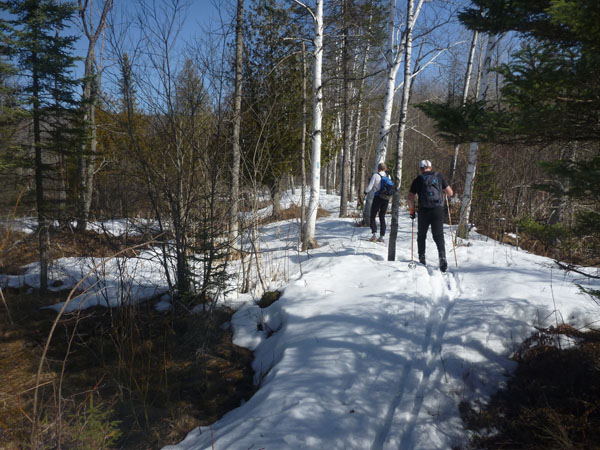 A nice mix of snow, birches and warm brown tundra.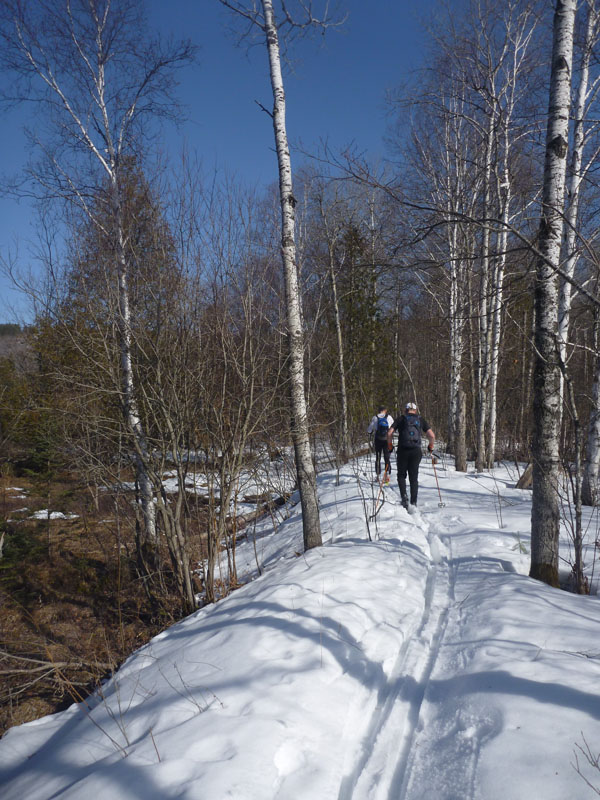 Bluebird day.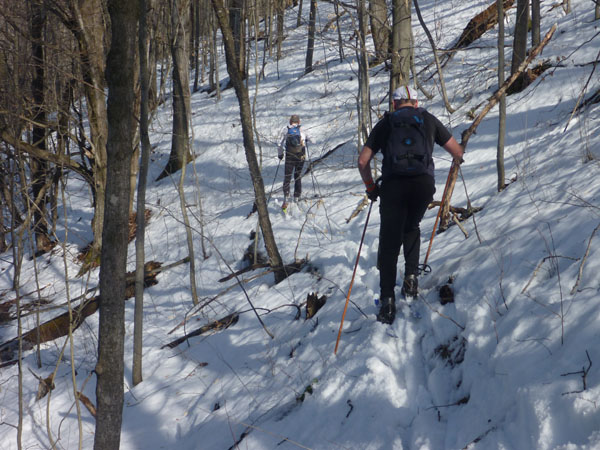 Crossing the Headwall.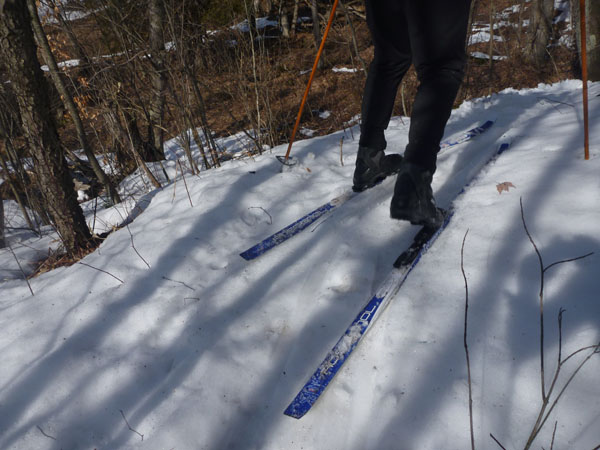 Rossi PR that money can't buy.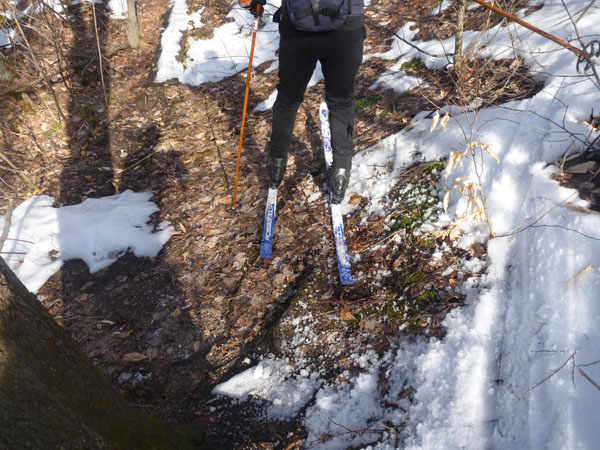 Rossi PR photo session.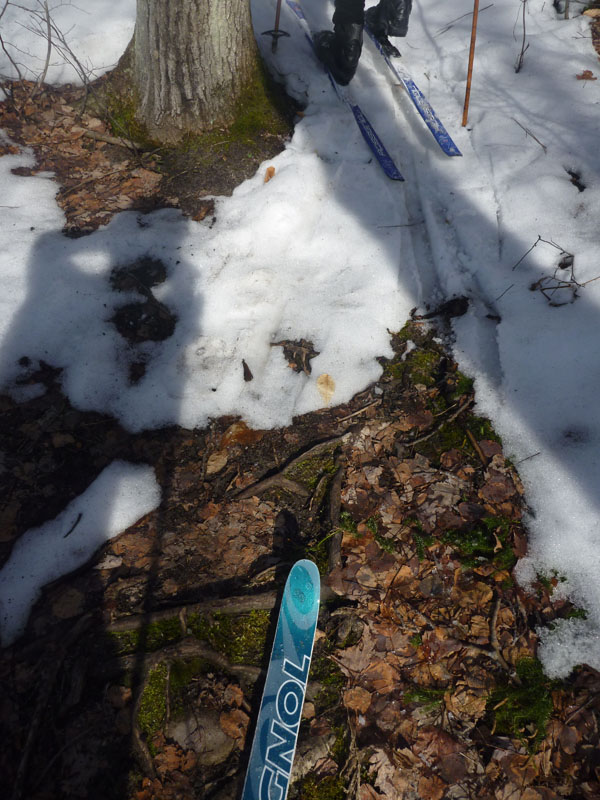 Rossi PR photo.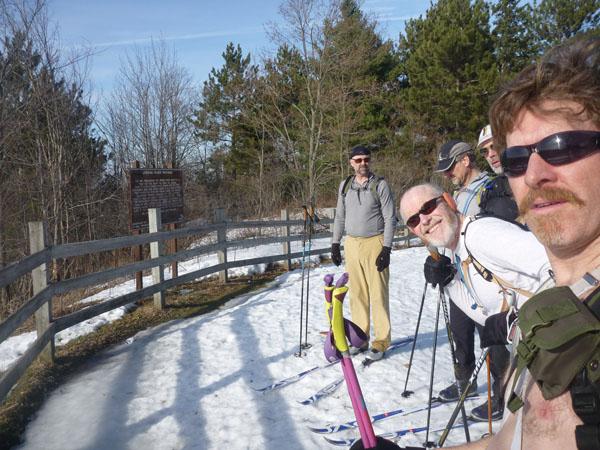 At the top, at the finish, looking chipper.
Related Articles & Good Stuff
Views From a Wider Range of OYB