Potto Raid 2012 Report & Pics
January 24, 2012
The 7th Annual Potto Raid resulted in a broken ski and some bumps'n'bruises, but it's still the funnest, most challenging and most scenic XC ski race that nobody knows about.

It also has the best prizes to fees ratio. Well, it's unbeatable there since the fee is zero, but the prizes are just plain dandy: Quality microbrew sixers! ...And various Jiffy bake mixes! ...And ski apparel. ...And hot-off-the-press ski books! --All courtesy of organizer RadNord and his Chelsea-based Jiffy Mix sponsor. RadNord rounds up the other goodies from the local Aberdeen bike shop and yours truly, OYB.

Trail conditions were nice but a touch grabby. Bases were scratched.

It was fairly low-snow with not much of a base, but just enough. We got great glide most of the time, especially in the middle where it had already been tramped. For a mile, where maybe a Scout troop had hiked, it was packed wide enough to skate. We made do! Maybe a 1" base with 2" on top. 20F to start, 30F to finish. Kick wax worked until roots wore it off. I used Start Grip Tape but roots wore over half of it off.

But what a primo trail! ...Lots of hills and ridgeline views of hardwood forests and ponds for 17 big miles and 3+ hours.

You may wonder why it takes so long to do "just" 17 miles. 3 hours is usually good for a full hammerhead 50k. Well, there's the hills...

The dozens of Potto hills feature a perennially rewarding mix of twisty turns, roots, rocks and drops.

Only 7 showed to race this year, down from last year's record 23. It's been a lean snow year.

JR and I had a thrill on the twisting gully drop to the Boy Scout Camp turnoff. As we entered the downhill, I saw ladies and a dog through the trees in the section further down and I hollered then we lost sight of them and hit the fast dropping left and were on them. Thankfully they had all stepped to the side. Instantly we hit the hard flying right, all laid out, with JR surfing my side-wake, since I was scraping the trail dry. We cleaned the whole thing, me just barely, including the next series of fast drops. I wish I coulda been those ladies: to see such a scene!

Dan, the young new guy, used racing combo skis coz that's all he had. He did great, commenting that it was tricky sorting out how to handle the downhills until he saw the solution was a series of totally unrelated moves. It was the uphills that he said threw him the worst. He tried copying our patented side-skamper "skidaddle" move but said he just couldn't make it work like we did and would get dropped every time. Indeed, he kept up better on the tricky descents.

As always the Potto is a civilized affair, starting with a neutralized half hour, a moderate middle, then pedal to the metal for the last few miles that seem to be all uphill.

Our patented multistage approach doesn't break many overall speed records but it is fun and social and helps us keep our wits clear enough to understand the trees and roots looking at us on those descents. Pure fast-lap attempts are perhaps best left to crazier days, with a cellphone lifeline to someone who can fetch and drive you out, just in case. (3 hours *has* been broken, but just once that we know of. The best bikers do it in about 1 hr, the best runners in about 2 hrs. 3 seems to be the ski time, due to all the "too steep to glide" uphills and "no rest" downhills.)

Sadly, at the farthest-away point, Dan broke a ski on an uphill. His base was intact so we encouraged him to just press on, scootering if he had to, walking if it came to that. He still did great! --Coming in only a half hour behind the gang.

Wendy Caldwell had her first Potto outing, if I recall right. She didn't do the whole thing, which is smart for the first time, but just doing the middle loops is a bigger ski day than most trails throw at you.

Our unofficial 8th finisher was a guy who we ran into out on the trail. He came in after the parking lot party was over. He was suited up BC-style and declared that he'd skied all over the world and still finds the Potto to be one of his favorites. That's what we said!

After the initial warm-up, the group winnowed down to 4. After the ski broke, Gary had an unfortunately huge downhill side-tumble skiing *up* a steep gully and lowered his tempo a notch afterward, leaving JR RadNord and I to blast through the last section. Once the trail commenced its final and seemingly endless series of uphills, I pulled away and came in 7 minutes ahead at 3:17, making this a FOUR-peat!

JR had the grip, but I had the glide. Finding any use for glide in the last 2 miles was tough, but I had a clean day on the downhills. JR's usual magic swapped places with me and he picked up my two usual boffs, nearly tearing his arm off on Boy Scout Hill. Although my descents were ugly at times with what I call "standing crashes," unlike JR's typical fast'n'stylin' runs.

It's a solid one- or two-slicer loop -- pizza, that is. Don't try to ski it on potion, goo or bars alone.

Gary came in 10 minutes after that and Dan 10 minutes after him -- still smiling -- a great sign. He seemed to have a great time. He's done Ironmans in the past so the scale was probably right. Our other 3 took inner-loop cut-offs -- always a smart choice. But smarts isn't why we take on the Potto Raid challenge!

At the finish line parking lot apres' ski party, RadNord blasted some suitable Black Keys "Lonely Boy" and Fatboy Slim "Funk Soul Brother." Then Wendy busted out a cast-iron pot full of still-HOT French-toast-bread-pudding. Bottle caps flew and prizes were awarded to us, one and all.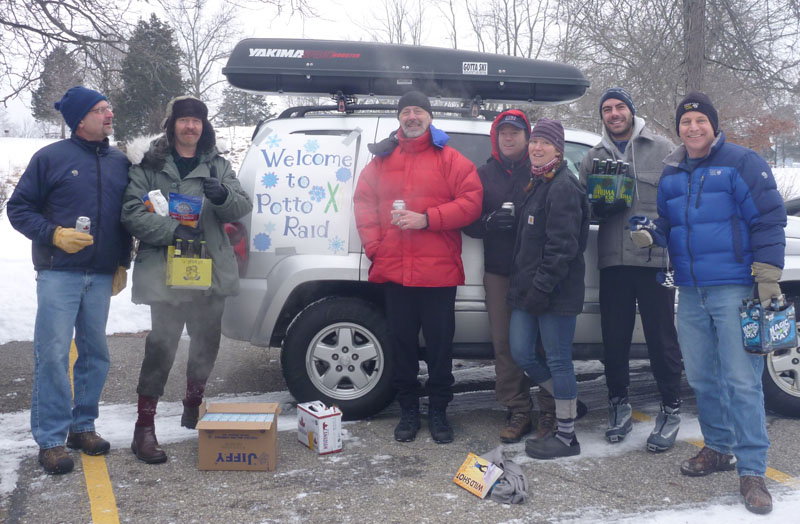 The crew. (Whups, Gary was over starting the bonfire with his blowtorch.)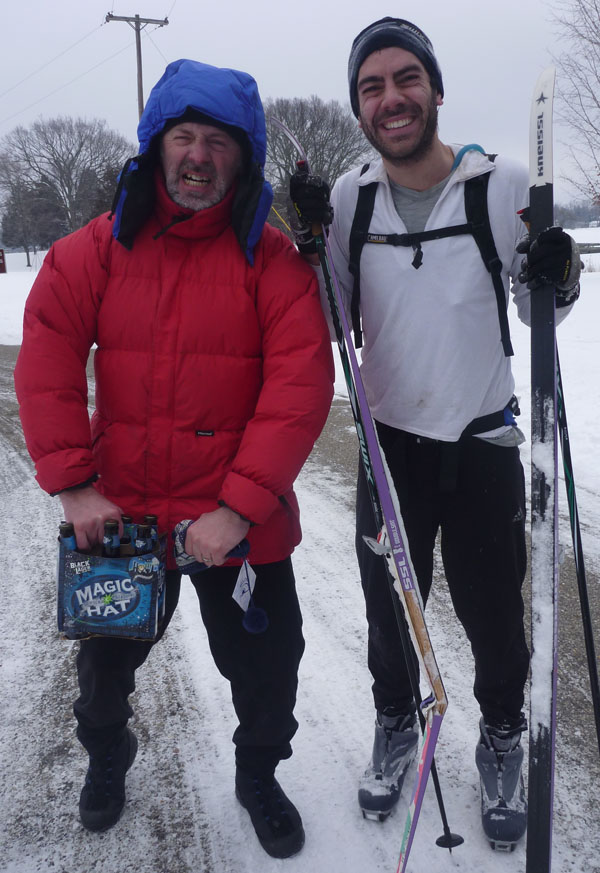 Check it out now! Funk soul brothers...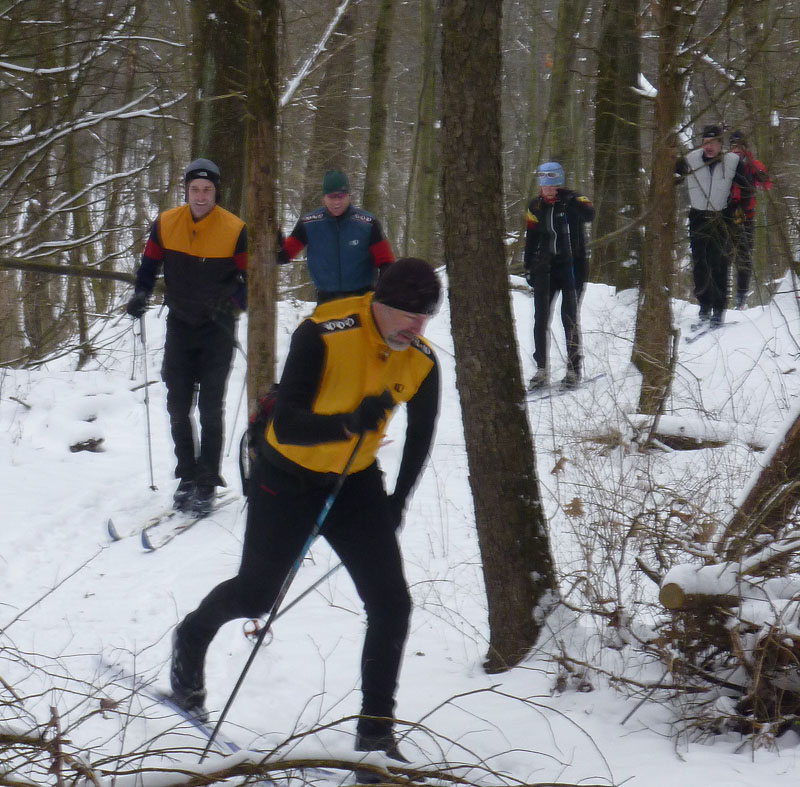 JR leads the way through the early -- and technical -- neutral stage.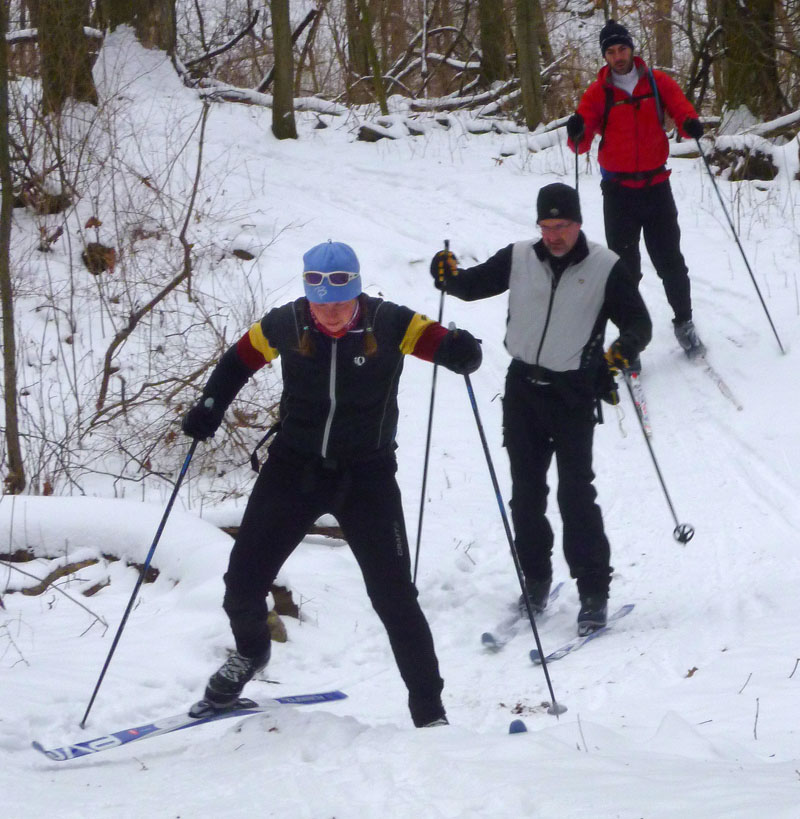 Dyno flow.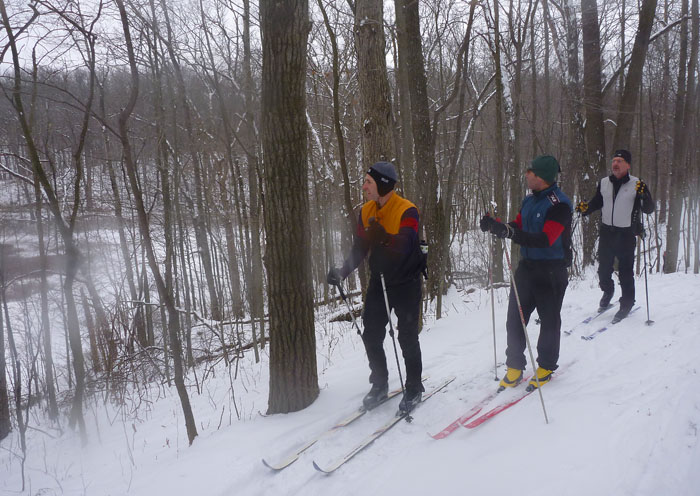 The pause that refreshes on a pond-overlook ridgeline.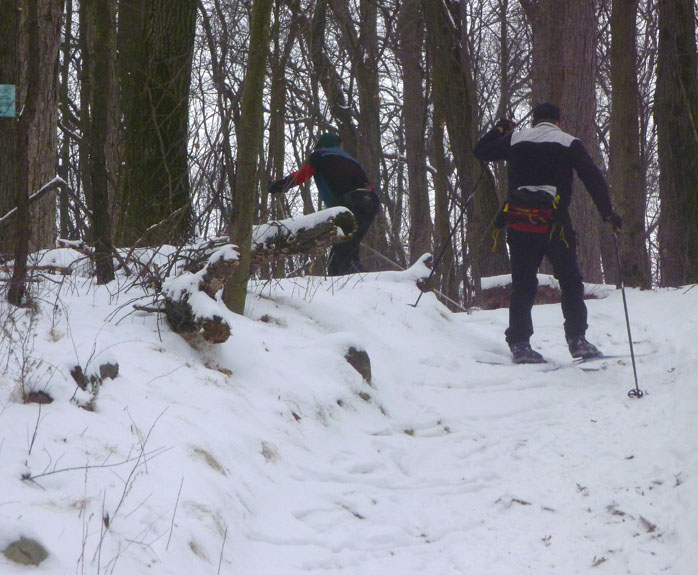 Rosso showing us the "skidaddle" amid the roots and rocks early on.
Related Articles & Good Stuff
Views From a Wider Range of OYB