A Taste of Skiing the Potto
January 24, 2011
OK, so the bikers spell it Poto. I think the oldschool way was Potto. Anyway...

The Potto is a challenging ... and rewarding ... trail. It's had great conditions for skiing so far this year. 2 weeks ago was the Raid and it was perfect. Then we got a thaw and rain and not much more snow. Yet yesterday it was still perfect! Not many ski it because it's so challenging, but really it's very doable and highly enjoyable with just a bit o' gusto. The big thing is that today's bindings -- especially the BC type -- and midlength skis plus boots with pivoting ankle cuff make it a breeze to get the kind of control you need to do true singletrack mt-bike-style XC skiing.

So RadNord, Harry and I went out there for a couple hours of hard play.

Cold air, blue sky, suntanned faces.

I note that only few photos are ever taken of skiing the Potto. You know why, of course: coz it's so much fun and so picturesque that nobody is taking pics. That's when you need a real photo pro. Only they have the guts to stop'n'shoot when the action is that great. I'd love to get some sequences or video of certain downhills and vistas. It's steep-drop, Super-G, S-turn legendary material. And it's in a forested region that's full of 100-foot high ridges, lakes, streams and ponds. For being in such "boring" territory this trail somehow has quite a few switchbacks. It's why we don't need no steenking Rockies. (Though a mighty vista would be dandy from time to time.)

Yesterday we captured a couple traces...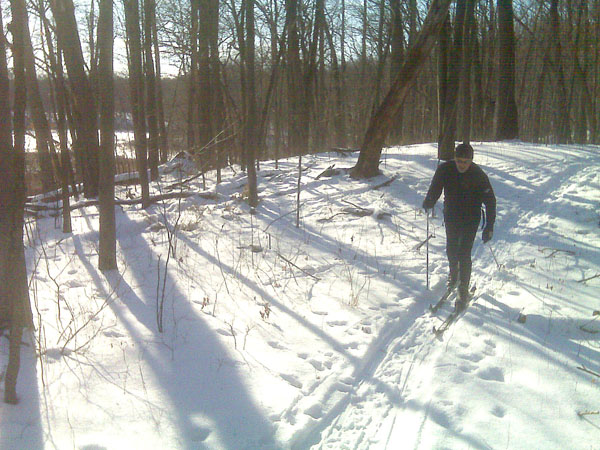 Tasty moraine singletrack.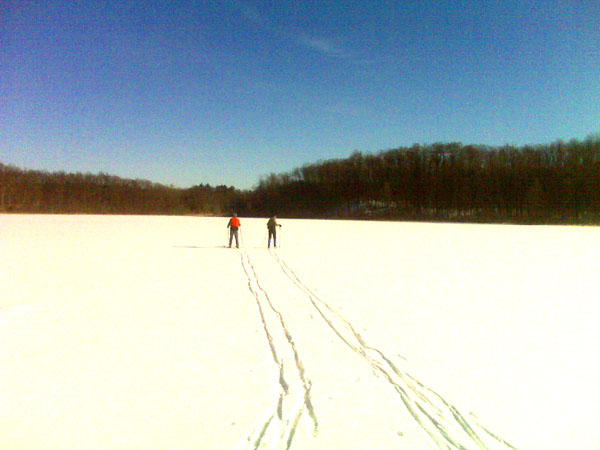 Cosmic rays.
Related Articles & Good Stuff
Views From a Wider Range of OYB