Harbor Sights & Farther North
August 04, 2010
Here are a couple points of interest regarding Harbor Springs and Pellston, with a sprinkling of Cross Village on the side (when I can get more pics).

It's worth appreciating and looking into some of the key history of Harbor Springs at the Andrew Blackbird Museum.

Blackbird was an Indian chief in the region and was the first to be educated and to write an Indian's point of view history, back in about 1880. I read his bio but my details are now sketchy. The gist is close, though, I think.

Blackbird was a young Indian who impressed a couple white officials traveling through the Straits area long ago. They ended up encouraging him to attend school and gave him names and help as best they could. He didn't have really anything to go on, though. I believe he and his sister both left home to find schooling. They took a ship to Detroit somehow and from there somehow got a ride into Ohio where they were told they'd find a benefactor for schooling. They had no idea where they were or who this person was beyond a name and maybe a town. Through a couple complete coincidences they ended up in the right place. I recall there were attempts to rebuff Blackbird as a penniless Indian but someone prevailed on his behalf and he was admitted and excelled in school. In the end he was Postmaster of Harbor Springs for a long time but moreover was a liason for his tribe in the region. He interacted with Henry Schoolcraft, the Agent at the Soo, to get money owed the tribe annually. This wasn't easy. Blackbird's report of Schoolcraft isn't always flattering, which is interesting considering Schoolcraft's reputation as the main interpreter of Indian culture of the time and place.

I read Schoolcraft's memoir -- man, those guys were asses. They were like aliens or robots coming in among these people. And judgmental! He sure had a low opinion of most of the Indians. That's the British > U.S. difference from the French for ya. The French intermarried and intermingled with the Indians for, what, 100 years. Then the UK/US mess came along with their technoholism and religious power-frenzy. It's breathtaking. And they seemed totally oblivious of it!

Blackbird wrote a small volume called "The History of the Chippewa and Ottawa Indians and Their Language," which gives both cultural and personal info of his life and times. It's a great little read.

His brother was also intellectually gifted and studied to be a priest. He seemed to represent an early incarnation of Liberation Theology. His people placed great hope in him and he was very charismatic. He went to Europe for a special ordination. But he was assassinated at the Vatican. It's quite a tale!

I'm sure I'm off in some details but it's amazing stuff.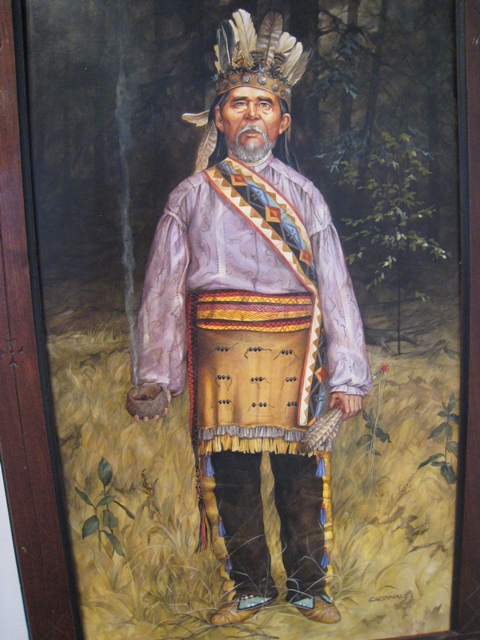 Blackbird.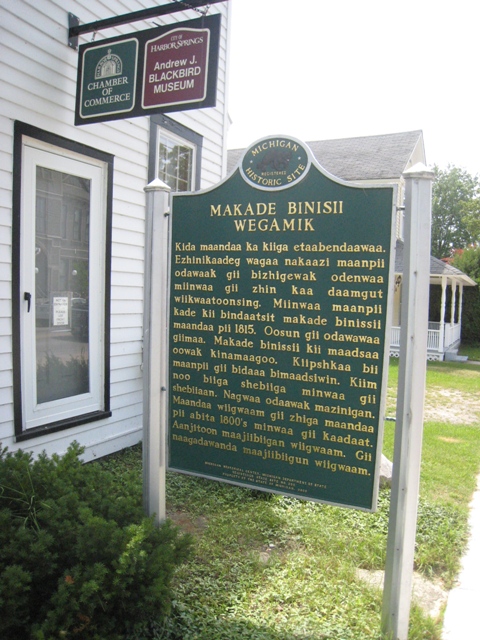 In front of the Museum.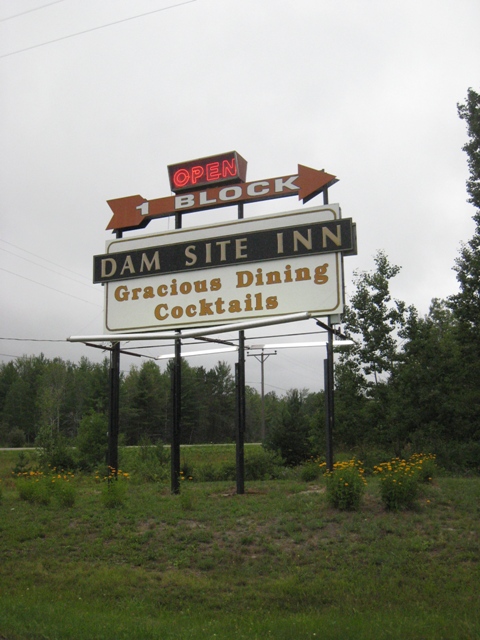 The Dam Site Inn south of Pellston is worthy detouring into about supper time.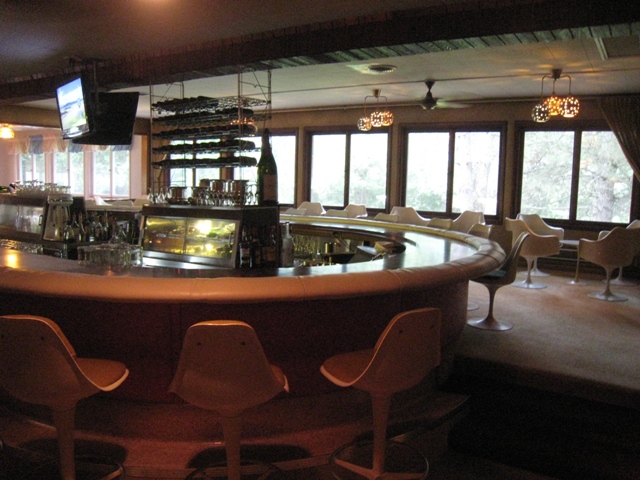 The Dam Site has a most swanky cocktail lounge.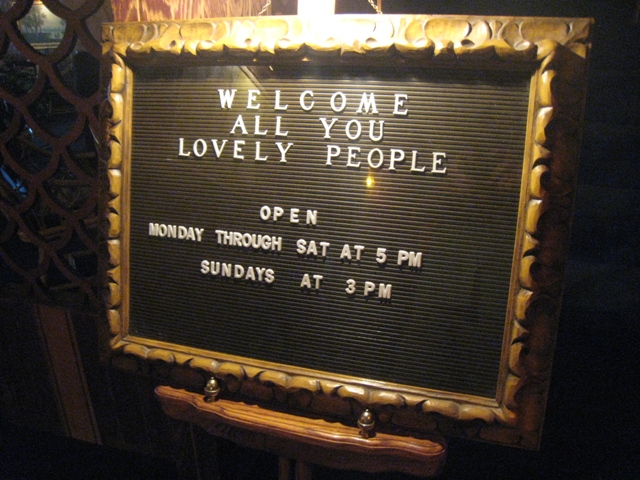 Effusive sign.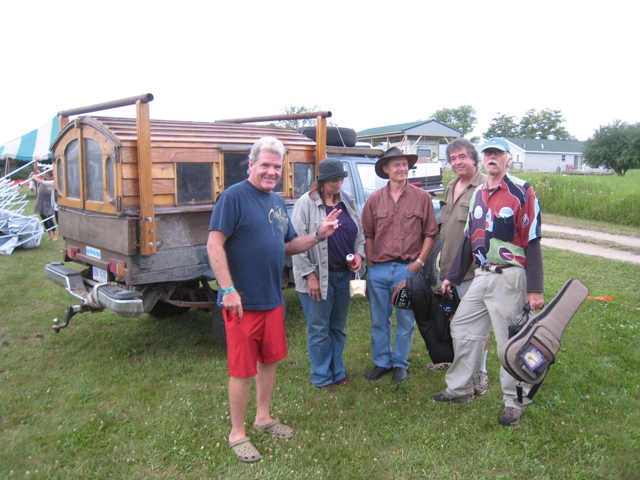 Martha had a booth at the Good Hart firemen's fundraiser, a very cute and diverse event. The Blissfest organizer (? Gillespie) and pals, including a guy named Kirby played music most of the day. Kirby had a great Mighty Rig with a homemade wood topper and nice bike rack on the front bumper.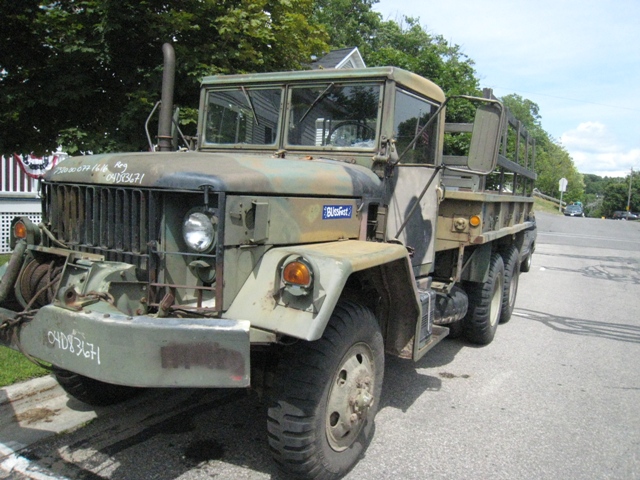 A truck at a worksite in Harbor. Check the bumpersticker.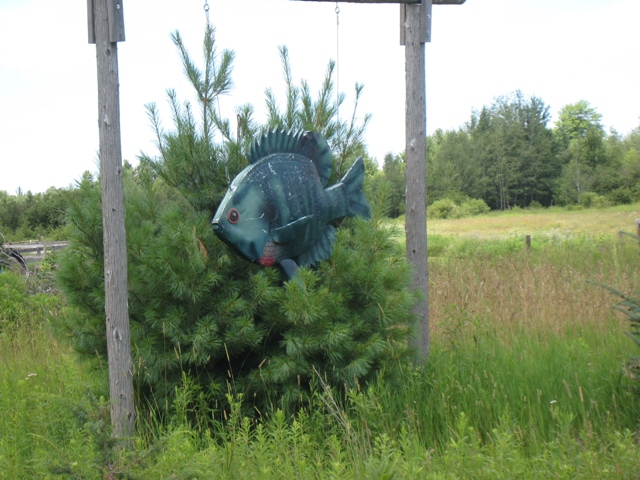 A strange but appealing roadside sign near Burt Lake.
Related Articles & Good Stuff
Views From a Wider Range of OYB