Big ULA Media Impact! --Major excitement over a Micro Press!
October 21, 2008
OK, I know that anyone who checks out the line of ULA titles sees a line-up of novels and media unlike anything else produced today. And it has to be obvious that underground voices like the ULA are needed to understand the iceberg beneath the glossy tip of media. This is common knowledge in terms of indy film and music---now, with the ULA, indy lit is taking its rightful place in the world scene. ...But you know all this.

What you might not know is that I've been remiss in posting here that the major media of the world have already jumped in hard to help express the ULA challenge.

We've gotten millions of dollars worth of publicity since we started speaking out on behalf of everyday writers. This is truly astounding.

We insisted that folk-writers be added to the scene, a scene drowned-out by credentials---no "town hall meetings" there! Our pleas for inclusion to literary honchos are ignored. Truly new voices don't mean excitement or engagement to them---they're a threat. So we went to the top, to the general media. Our message resonated there! Check it out!

I made the following quotes into a flyer that I hand out at shows, but I've been remiss in not including them here. (The complete pieces are linked/reproduced at ULA HQ, literaryrevolution.com.)

This cause has traction! It represents the best chance to get U.S. literature out of its rut---out of its "isolation," as the Nobel chairman recently put it.

Our media triumph was our attention-getting "noise" phase. Now, as you can tell, we've produced the GOODS to follow it up.

Without further ado, here are brief clips from a few of our major media responses...

* New York Times, front page, "Amazon Glitch Unmasks War of Writers": "...The ULA, which champions 'underground writing,' has been critical of contemporary writers' focus on themselves rather than the wider world..."

* New York Times Review of Books list of hottest literary websites: "...The rough-and-tumble populists of the ULA are determined to shatter the snotty New York publishing scene..."

* Boston Globe: "Not so fast! barked the literati-watchdog group Underground Literary Alliance..."

* The Washington Post: "The New York Post tried to gin up scandal over [millionaire] Franzen's acceptance of a $20,000 grant from the NEA. ...Only the ULA picked up on the story and encouraged protest."

* New York Press: "The ULA said, 'The NEA award to [millionaire] Rick Moody is a symptom of the elitist process of a tax shelter that gives money to those who don't need it!'"

* The Village Voice, feature: "Start Making Sense": "A small group of writers is plotting to overthrow a common enemy: the monolithic, ever oppressive New York Literary Establishment. ...The ULA promotes straight-talking, street-smart prose."

* The Village Voice (another article): "[ULAer] Wenclas held a press conference at CBGB to denounce overpaid writers. Plimpton repeatedly declared Wenclas's assertions to be 'Nonsense!'"

* Shout Magazine, feature: "Writers' Revolt! The ULA Attacks!"

* Philly Weekly, "Anarchy in the PA": "The Philly-based ULA flips off the publishing world..."

* The Believer, big feature: "Protesting All Fiction Writers!": "The ULA believes literature today is 'out of touch with reality' and the publishing industry corrupt."

* Black Book, magazine, major feature: "Protest Issue": "The ULA, known for gatecrashing book-readings in Manhattan and heckling authors to explain the relevance of their self-absorbed novels, has sent word that I am to expect trouble..."

* The Melbourne Sunday Age: "[Millionaire] Franzen wrote to cantankerous critics from the ULA, a group that had been bitching about his [tax-payer] grant. 'If it sounded as if I was decorating my office or something, that's just not the case.'"

* The Glasgow Herald: "The ULA says 'Relevant literature now!' "

* UK Guardian Unlimited: "McSweeney's has as many detractors as loyal readers, but still seems to have the edge on young pretenders, the particularly user-hostile Underground Literary Alliance and the smart n+1 magazine."

* Dozens of literary blogs, forums and zeens—BookMouth, Grumpy Old Bookman, Galleycat, Maud Newton, Neal Pollock, Zulkey.com, 3 a.m., Bandoppler, Zine World, God is in the TV, CharlieRose.com, AtlanticMonthly.com, MissSnark, MobyLives, Bully, Iron Minds...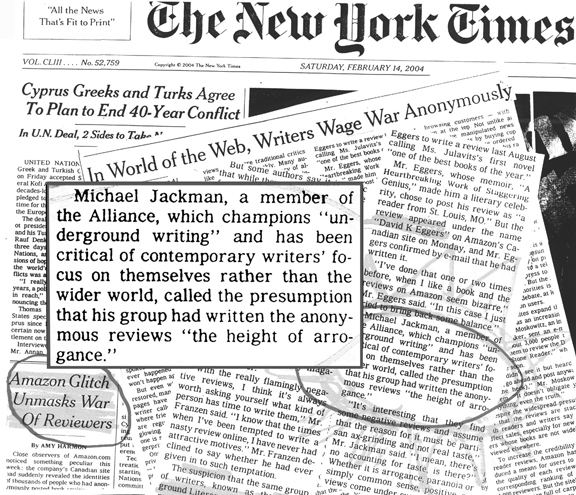 Our NYT cover story...a collage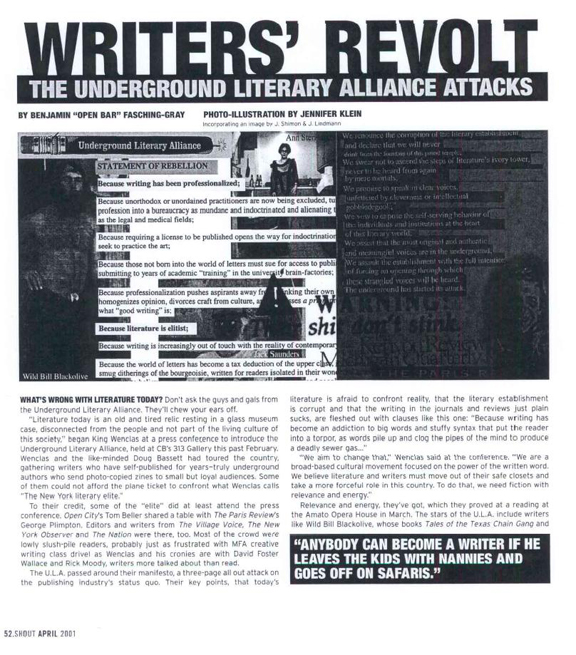 "Shout" mag, from the pop scene...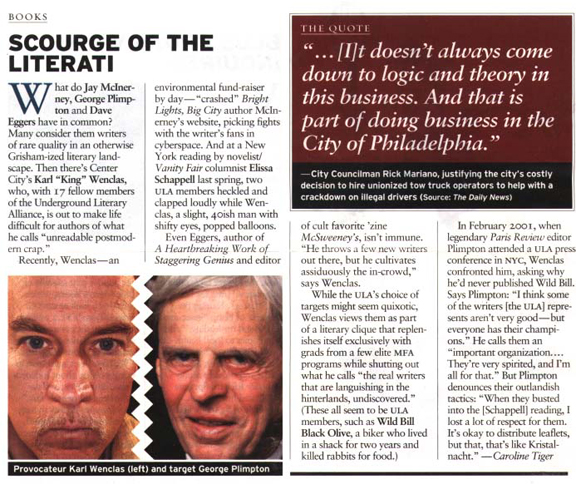 NYC face-off with Plimpy in the "Philly Weekly"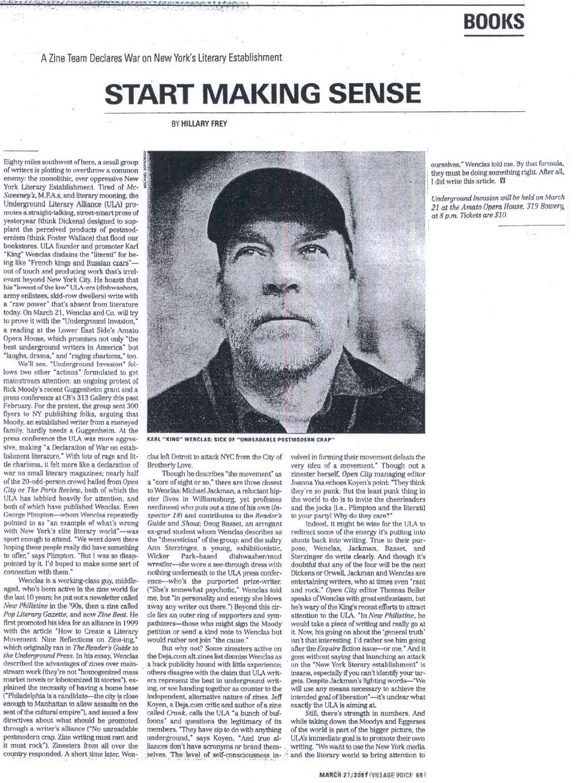 ...from the Village Voice
Related Articles & Good Stuff
Views From a Wider Range of OYB